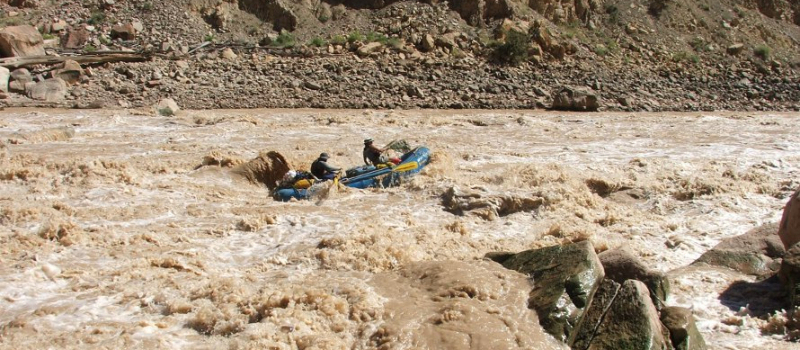 River Difficulty
Class I – Easy.  Small waves.  Few obstructions that are easy to spot and avoid.  Self rescue is not difficult.
Class II – Medium.  Rapids with open channels and clear lines.  Experienced boaters will be able to easily avoid any obstacles.  Swimming rarely poses a problem.
Class III – Difficult.  Many moderately sized waves with rocks and ledges.  Requires an experienced party or captain and a good quality boat.  Scouting is often necessary.  Swimming is still rarely a problem but can be extended without assistance.
Class IV – Very Difficult.  Long rapids with large irregular waves and obstacles.  Scouting is required for first descent.  Expert captain and very good quality rig are mandatory.  Powerful maneuvers and quick decisions will be necessary.  Swimming is hazardous and difficult; a rescue frequently will require a group effort.
Class V – Extremely Difficult.  Steep  raging rapids with large holes, drops and obstacles.  Complex lines that require expert maneuvering.  Sustained rapid sections without rest or relief requiring stamina.  Scouting essential but often difficult if not impossible.  Expert captain and crew who are all fit and have rescue experience.  Very good quality boat and rigging with spare equipment.  Swimming is extremely hazardous and dangerous.  Rescue demands a group effort and varied safety equipment.
Class VI – Very few people and craft can even attempt this level.  Previously considered unrunnable the upper echelon of kayaking experts have successfully run this class of river.