Delorme inReach Explorer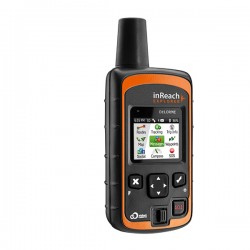 My first thoughts on this device are that it is a pretty cool little package for those who often find themselves exploring out of reach of cell service and far from most anything.  After using it today and testing it out I have some issues with the intuitiveness of the menus and interactions with the device.  However there wasn't anything there that I couldn't overcome.  One of the main reasons that I was drawn toward this device is its ability to pair with a cell phone to give me the Delorme topographical maps that I enjoy so much from their gazetteers.
As a software developer by trade I have some major concerns about the fact that the only way to offload data from the device about your route/waypoints is via the Delorme website.  That data can take one of two paths from what I can discern.  It can either be uploaded to the Delorme site via the Iridium satellite network or via internet connected desktop software through the usb port on the device.  This is a frustrating limitation for those who might be away from an internet connection or would like to move their historical data without having to send it up to Delorme's servers before bringing it back down to your own device or computer.  Also it appears there isn't a way to remove your historical tracks from the Delorme website.  As all of my issues with the device are software and data retention related there is hope that Delorme's software team will give users more freedom with the data they generate.  However things aren't looking good so far according to their own forum http://forum.delorme.com/index.php?/topic/21301-web-site-questions-deleteing-stuff/.
Update – After emailing Delorme I have been informed that the ability to delete user tracks will be included in a future update.  However no timeline for said update was given as Delorme appears to not know when this update may come out.  Given that forum posts on the subject are over a year old we can only cross our fingers and hope that they will make this update a higher priority.